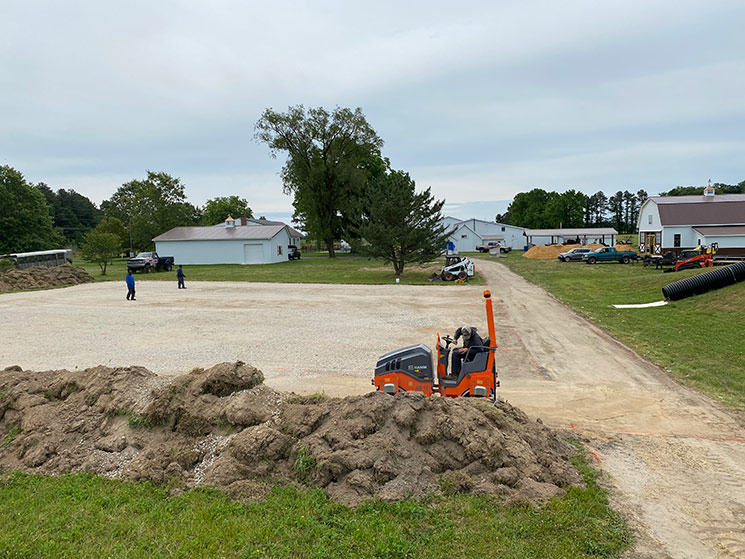 JD Asphalt Inc. is your full-service paving contractor! When you're in need of land excavation for a new pavement project, don't hesitate to contact our excavation contractors. We're pleased to provide extensive services for both home and commercial land grading, doing whatever it takes to deliver total customer satisfaction and effective workmanship. In Dover and surrounding areas, you can feel confident in your paving project when it starts with us as your grading and excavation contractors. Call or e-mail us today!
Breaking ground for a new driveway or parking lot construction often requires qualified excavation contractors. Luckily, you've found the right team for the job in JD Asphalt Inc. If you're looking for earthmoving contractors with the heavy equipment and know-how to tackle your paving project, look no further than our land clearing specialists. Our grading contractors can help with residential and commercial properties alike.
Prior to paving, we will:
Thoroughly assess your property and determine the best approach to your land clearing and grading.
Excavate, level, and grade all surfaces, no matter how much dirt or earth there is to move.
Put down base coats or under coats to ensure the smoothest possible application of pavement.
When you bring in JD Asphalt Inc., you don't have to worry about careless mistakes that can slow down progress and run up costs. Plus, while some paving companies are new to the area, our earthmoving contractors have been successfully helping local property owners since 1948! We're a licensed and insured team of grading contractors, providing you with protection and peace of mind at every turn.
Dependable Land Grading and Excavation for Paving
At the outset of any major paving project, the quality of your chosen grading and excavation contractor is crucial. After all, proper land clearing sets the stage for the entirety of your pavement construction. That's why working with JD Asphalt Inc. from beginning to end is a must. We're one of the most reliable excavation contractors in the greater Dover area. It can be stressful having your property torn apart to lay the foundation for a parking lot or driveway. But thanks to our skilled operators, you'll have a grading and excavation contractor you can feel confident in.
We stand behind most of our land clearing projects with a 1-year warranty, and we also offer free estimates. Why not call us today to get an estimate on your home or business land grading project? It's free, so you have nothing to lose!